In our recent webinar, "The Value of Embedded Finance" hosted by Jim Marous of The Financial Brand's Banking Transformed, Ninth Wave's Doug Bacon, Chief Revenue Officer, and Lori Frederick, Head of Banking and Payments discussed the rapidly evolving technology landscape that encompasses embedded finance and open banking.
To begin with, there is still a learning process taking place among consumers becoming acclimated to the terminology and differences between exactly what "embedded finance" and "open banking" mean and how each impacts financial institutions and their customers.
Ninth Wave has played a key role in the integration of financial data across generations of platforms over the years and is an expert at helping companies understand the benefits of each of these areas and how to implement solutions to deliver benefits directly to them and to their customers. With solutions to address both embedded finance – where financial functionality like reporting and transactions are placed directly into native platforms in use by business customers, such as Oracle NetSuite – and open banking – where financial data can be shared from custodian source to banks, for example, to in-turn be served to banking customers via mobile apps—Ninth Wave is deeply involved in the complexities of both supporting the secure transfer of financial information as well as ensuring compliance with industry regulations – current and evolving.
As financial institutions respond to increasing pressure and demand from customers for flexibility and cross-platform, simple and secure access to their financial information, they inevitably face the challenge of constructing a roadmap to implement change to technologies to meet that demand.
This involves key decisions like build vs. buy, deployment and configuration, regulatory compliance, connectivity to financial sources, staying up to date with an evolving suite of information protocols, and more.
Adding to the complexity is a rapidly growing list of solution providers of several types that offer varying levels of accessibility, configurability, and capability as options to implement roadmap changes.
During this discussion, Doug and Lori shared their insights on how the industry is developing, how the ongoing regulations changes are impacting financial institutions, and how Ninth Wave has been able to successfully lead change for many organizations looking for "future proof" solutions that can enable them to quickly get up and running with embedded finance and/or open banking capabilities quickly enough to stay at the forefront of the industry and lead the change with high customer satisfaction.
To view the webinar, please follow this link or click the image below. To learn more about embedded finance or open banking, or how Ninth Wave is helping financial institutions embrace this new shift in financial information management, contact us.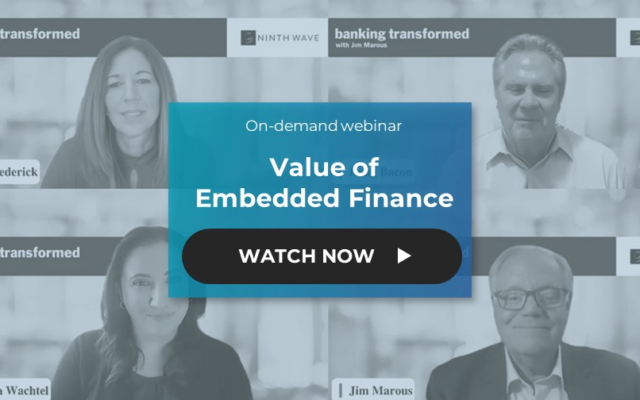 About Ninth Wave
Ninth Wave delivers secure, seamless, and standardized data connectivity to fintechs and financial institutions of all sizes, through a single point of direct integration to a universal suite of open finance APIs. With configurable controls, visibility, and insights into all data sharing and data acquisition connections between aggregators, third-party apps, and internal applications, Ninth Wave empowers financial institutions and their customers with access and oversight to their connected apps, enabling secure data exchange in a holistic and scalable open finance ecosystem. Offering solutions for retail and commercial banks, wealth managers, credit card issuers, tax providers, and more, Ninth Wave provides unparalleled connectivity and universal compatibility to complex information systems, unlocking innovation, potential, and performance for your data. Contact us to learn more about Ninth Wave's secure data connectivity features. Empowering open finance. At scale, at last.