Explore our secure data exchange platform connecting mission-critical applications in a true open finance ecosystem.
Ninth Wave delivers secure data connectivity to financial institutions of all sizes through a single point of direct integration to a universal suite of open finance APIs.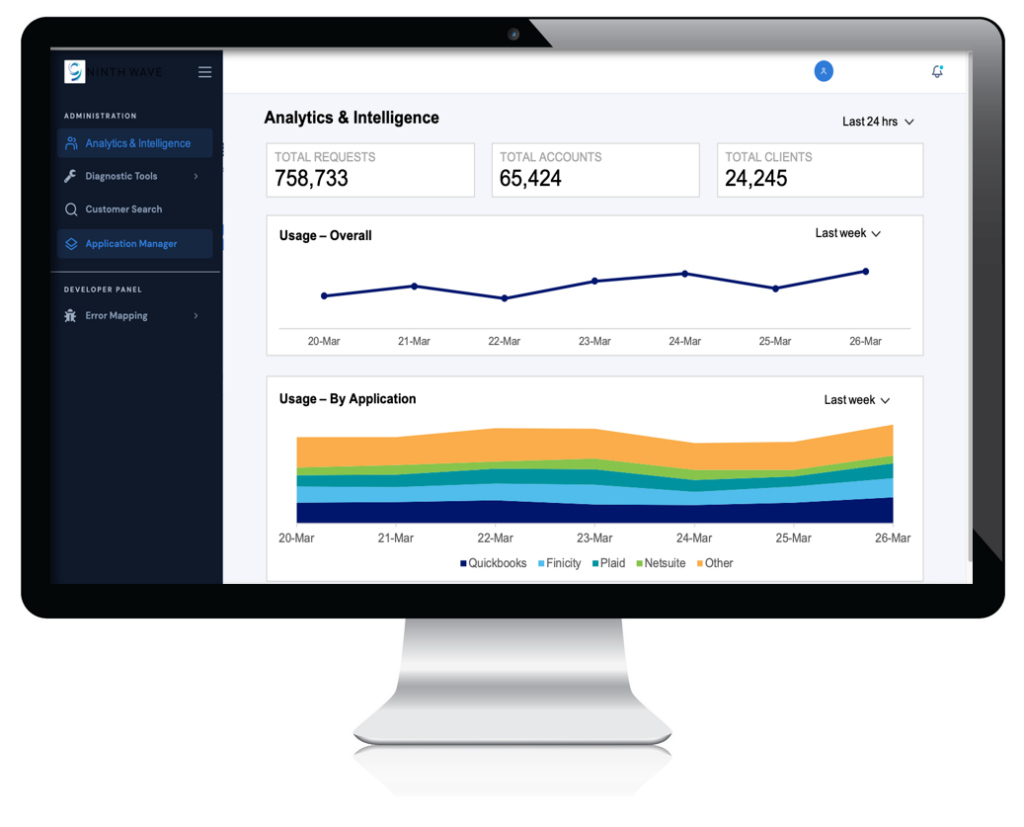 With configurable controls, visibility, and insights into all data sharing and data acquisition connections between aggregators, third-party apps, and internal applications, Ninth Wave empowers financial institutions and their customers with access and oversight to their connected apps, enabling secure data exchange in a holistic and scalable open finance ecosystem.
Offering solutions for retail and commercial banks, wealth managers, credit card issuers, tax providers, and more, Ninth Wave provides unparalleled connectivity and universal compatibility to complex information systems, unlocking innovation, potential, and performance for your data.
"Ninth Wave's biggest strength is its domain expertise in financial services technology – they know how to build and run financial system integrations, and how to connect with the fintechs and aggregators that matter in the industry."
An Out-of-the-Box Solution
Our platform simplifies connectivity: a single connection to Ninth Wave allows financial institutions to enable a growing list of "must have" apps and third-party solutions for their customers. Our implementation team leads the integration with client data systems. We also integrate with existing customer authentication protocols (e.g., OAuth or SSO) or can provide authentication as a service. Ninth Wave maintains all external API connections, so clients can focus on their core business.
A Single Platform for All Financial Institution Types
Ninth Wave's platform addresses the connectivity needs of all financial institutions – from large, integrated firms with multiple verticals, to credit unions and pure-play wealth managers. Our single platform approach allows larger clients to benefit from one vendor across all divisions, rather than managing multiple solutions and relationships, while clients of all sizes can benefit from our ecosystem. Once a new app is on-boarded to our platform, it can be easily added to any client's Ninth Wave solution.
One Solution for All App and Aggregator Traffic
The Ninth Wave platform serves as a single, secure gatekeeper for all external data-sharing traffic. This eliminates the time and cost otherwise required for internal IT teams to build and maintain connections, and provides a clear path to eliminate screen scraping and its inherent security risks.
Fluent in All Data Languages
We leveraged our 20+ years of experience in data standards to build a platform that is protocol-agnostic. Whether it's a version of one of several industry-standard protocols, or custom APIs, we have our clients covered. We continue to stay at the forefront of financial data – including one of the first commercially-available FDX engines – future-proofing connectivity for our clients and their customers.
Give Your Customers the Best Digital Experience Possible
In order to provide outstanding digital services, you need the ability to give your customers open, flexible, secure access to their financial data – whenever they want it, through whichever app or solution they choose.
Learn how Ninth Wave can help you get started. Download the fact sheet or watch it in action today.  Or, if you'd like to speak to one of our knowledgeable team members to discuss your data sharing strategy, contact us today.
Learn more about the Ninth Wave platform, and how it can help your organization succeed.