Looking for embedded Banking, Accounting, ERP Integration?
Meet with Ninth Wave to learn why 7 of the top 10 US banks and 8 of the top 10 largest Wealth Managers use our Open Finance Platform for seamless and secure permission-based connectivity to a wide range of applications.
The Ninth Wave team is attending the annual conference for the Association of Financial Professionals (AFP) 2022, this year held in Philadelphia, PA. The four day event, running from October 23-26, draws several thousand financial professionals from around the country to share insight through roundtables, keynote presentations, educational sessions, and networking events.
Integration with Oracle NetSuite, Finicity, Intuit QuickBooks, Microsoft Dynamics, Xero, and more.
Customer demand for open, secure financial data connectivity through a multitude of apps and software solutions, combined with new legislation and ever-increasing competition from fintechs, requires you to rethink your approach to data sharing. Ninth Wave provides a turnkey solution for securely and reliably deploying, managing, and scaling financial data exchange.
Ninth Wave's robust, comprehensive platform allows financial institutions to seamlessly and securely connect their systems to the mission-critical software solutions that business banking customers rely on to manage their daily operations. A single connection to Ninth Wave allows timely, actionable, permissioned financial data to be efficiently shared with a variety of accounting packages, ERP applications, treasury management tools, and more.
With Ninth Wave, banks can enable their business customers to incorporate their financial data into their existing processes and workflows and initiate banking transactions from directly within their current systems – providing a world-class digital experience that improves decision-making, enhances efficiency, and preserves business continuity.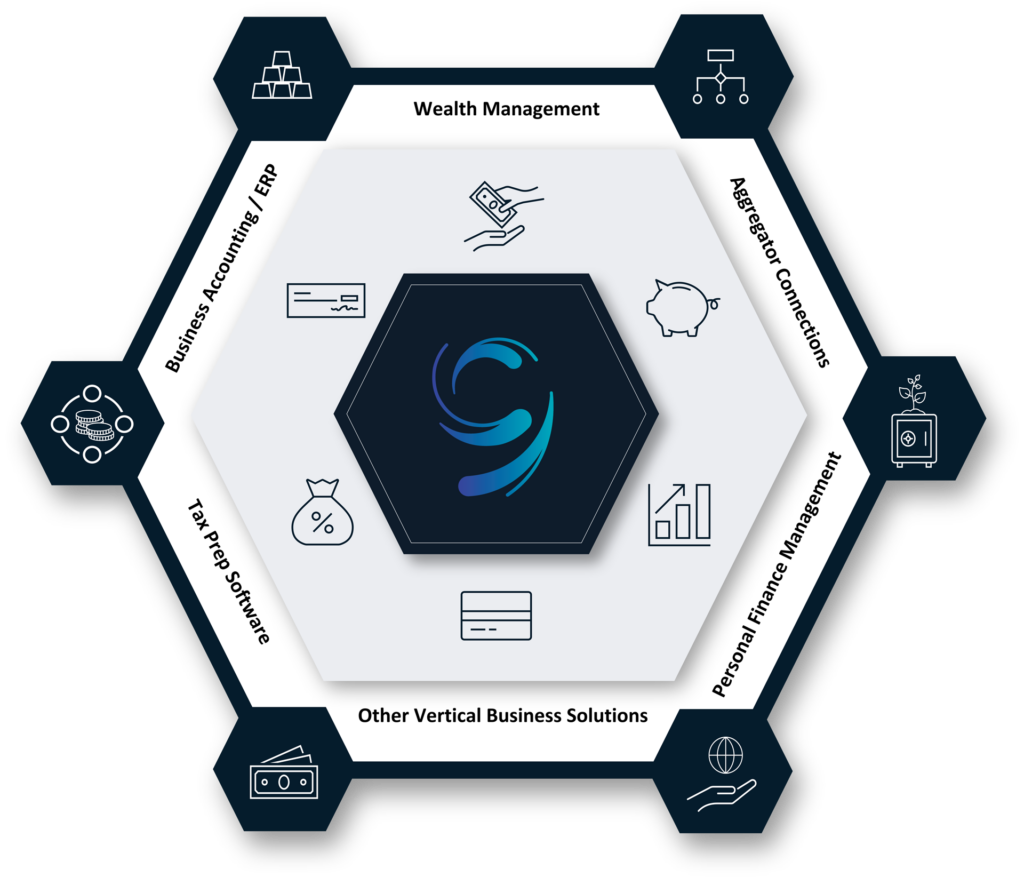 Why Do Financial Professionals Choose Ninth Wave?
An Out-of-the-Box Solution
Our platform simplifies connectivity: a single connection to Ninth Wave allows financial institutions to integrate a growing list of "must have" apps and third-party solutions for their customers. Our implementation team leads the integration with client data systems, integrating with existing customer authentication protocols (e.g., OAuth or SSO) or can provide authentication as a service. Ninth Wave maintains all external API connections, so clients can focus on their core business.
Single Platform for All Financial Institution Types
Ninth Wave's platform addresses the connectivity needs of all financial institutions – from large, integrated firms with multiple verticals, to credit unions and pure-play wealth managers. Our single platform approach allows larger clients to benefit from one vendor across all divisions, rather than managing multiple solutions and relationships, while clients of all sizes can benefit from our ecosystem. New apps on-boarded to our platform can easily be added to any client's Ninth Wave solution.
One Solution for All App and Aggregator Traffic
The Ninth Wave platform serves as a single, secure access point for all external data-sharing traffic. This eliminates the time and cost otherwise required for internal IT teams to build and maintain connections, and provides a clear path to eliminate screen scraping and its inherent security risks.
Fluent in All Data Languages
We leveraged our 20+ years of experience in data standards to build a platform that is protocol-agnostic, combining industry-standard protocols with custom APIs to meet our clients' needs. We continue to stay at the forefront of financial data – including one of the first commercially-available FDX engines – future-proofing connectivity for our clients and their customers.